Tonight is the second night of Hanukah, so I wanted to share 9 beautiful Menorahs (or "hanukiot" in hebrew) that I found online.
I find it interesting that candles and lights are such a major part of all three major holidays we celebrate here in the US at this time of the year:
Hanukah, Christmas and kwanza
.
Other than their unique symbolism in each of these holidays, the proximity to the winter solstice must have had an effect on the evolving customs of
these holidays
. The warmth and festivity
of candles lifts our spirits when the days are short and the weather is cold.
Here are some cool Menorah's I've found:
contemporary Menorahs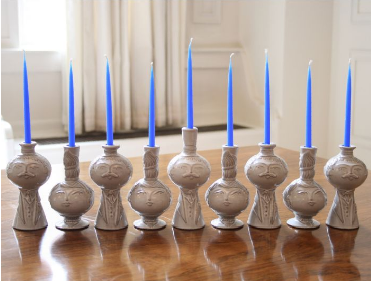 Jonathan Adler Menorah -
Utopia Reversible Man/Woman Menorah, $147.99
Nature inspired menorahs