What does your mirror reflect?
What does your strategically placed mirror reflect?
Does it reflect pretty views from a nearby window, or your beautiful interiors?
But perhaps your medium to large mirror reflects a not-so-pretty corner you've been meaning to take care of for a while...or even just a plain wall with no pictures or decorations on it.
Mirrors do not discriminate. They double everything around them, pretty or not.
Depending on where you stand relative to a mirror, it will reflect the space that's in front of it.
So if you're thinking about hanging a medium/large sized mirror in your home (entrance, over a fireplace, dinning room) consider what will it reflect when you walk by it (apart from you). If you like what it reflects, that's great. If you don't, reconsider the idea of a large mirror.
Instead, you can hang a picture or a
decorative mirror
with a stylish frame and a fairly small reflective area.These kinds of mirrors do not "visually expand" a room in the same way a the large mirror does, but they add a lot of spark and style to any room.
Decorative mirrors can be unique in different ways:
Mirrors with an interesting and unique frame
The starburst mirror is a popular classic decorative mirror. There are many variations on the theme.
A flowery frame will suite a more traditional decor
An all mirror frame with a dynamic design that has lots of movement.
Here's another eye catching stunning mirror. The frame has an organic/artistic feel to it, which makes it so interesting to look at, so in this case it really doesn't matter what the mirror reflects.
Rachel Reider Interiors
Mirrors with an interesting shape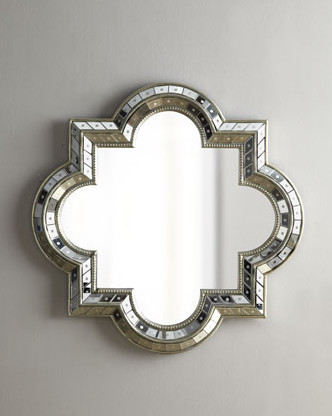 Set of mirrors
Below are examples of a set of various sized mirrors displayed together. The combination of the frame and the mirror together is what makes it look so interesting and dynamic.
Here the arrangement of the different sized mirrors over the console table creates visual interest even without an interesting frame.
Distorting mirrors
An interesting example of a unusual "cubistic" mirror
.
Placing mirrors on opposite walls creates an illusion of spacial infinity.
Sometimes a mirror can "break" a bright or bold wall.
Here's an example of a mirror reflection that is a picture-like composition.
If you would like help with picking paint colors, or planning a home decorating project, please don't hesitate to contact me for your free initial consultation.
vered@veredrosendesign.com