Yes, I know. The "safest" upholstery colors for a sofa are neutrals like gray, beige or white. Sometimes it's not the best choice. For example, if everything else in the room is fairly neutral (sisal rug, gray/white walls, etc.), choosing a colorful sofa may be just "it" if you want to bring some color into the room.
So which color is best? it depends on your preferred color palette (greens/blues or reds/golds/oranges), but some colors are better simply because they blend well with many different colors. One such example is aquamarine. It works well with so many other colors:
orange, yellow, apple green, blues, white, cream, beige, gray etc.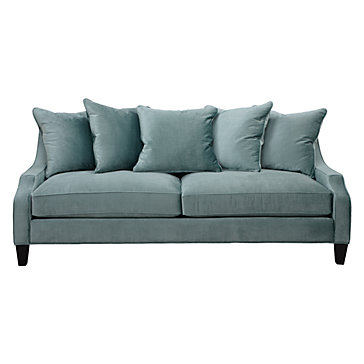 I've noticed this because two of my recent clients have purchased aquamarine sofa's and they look fantastic. For a bolder look, you can pick out a deeper hue, like teal, and for a softer look, pick out a lighter, grayer hue.
Aquamarine color combinations
Aquamarine work well with: orange, apple green, yellow, pink, cream, gray, beige, white and other blues. Below you can see the same sofa with different pillows: greens/blues/white vs. orange/white
Even pick can be accented with aquamarine
So? what's your take on this? please share below.
vered@veredrosendesign.com , Newton, MA
617-584-9965
blog